Everbrite Second Generation LED Parking Structure Luminaire Delivers 91 Lumens/Watt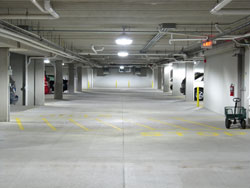 PSL™ produces more light using less energy; offers brighter and more reliable lighting
Everbrite Lighting is launching its second generation of the successful PSL, now with 21 percent higher fixture efficacy. The new luminaire incorporates the latest in emitter array technology, complementing the patented inDirect View (iDV) reflector system to deliver a third-party verified 91 lumens/watt at 5200K with a CRI of 67. "The second generation PSL is another sign of Everbrite's commitment to engineering lighting products that decrease energy and maintenance costs by increasing efficiency," said Jeff Gatzow, Everbrite product manager. "We're continually striving to deliver solutions that give our customers the best quality lighting technology; the increased efficacy of our second generation PSL makes a dramatic difference for end users." The PSL's innovative iDV reflector system offers outstanding beam control while reducing distracting glare and increasing user comfort factor. The PSL is offered in 55W, 72W and 90W versions, with optional occupancy sensor and dimming capability available, further reducing energy consumption, carbon emissions and operating costs.
Product Attributes:
Purposely designed to have the appearance more like a traditional parking structure fixture; however, it delivers far superior illumination than traditional light sources.
Optional up-light feature developed to minimize "cave-effect" common in most parking structures
Fast, easy mounting with swing down style J-box adapter
Superior thermal management allows for L70 life of >80,000 hours
Dimming capabilities for occupancy sensors and intelligent control systems, further reducing energy consumption and carbon footprint
Constructed using a die cast aluminum housing with a durable, powder-coat finish plus an impact resistant, lighting-grade polycarbonate lens that resists UV
The patented iDV reflector technology offers superior light management with high efficiency, reduced glare and improved user comfort factor. Visibility is dramatically enhanced, increasing safety for vehicle and pedestrian traffic. "The proprietary technology inside the PSL luminaires helps create safer conditions by producing less glare, better uniformity and excellent vertical illumination," said Gatzow. LED fixtures provide up to 70 percent energy savings, longer life-spans, reduced maintenance and greater efficiency than traditional lighting fixtures. And with no warm-up time, reduced operating costs and no mercury content, LED fixtures offer an attractive option for parking structure applications. Assembled in the USA of U.S. and imported parts, the PSL meets or exceeds BUY AMERICAN requirements within the AMERICAN RECOVERY AND REINVESTMENT ACT (ARRA). It is also RoHS compliant and has a five year warranty. The PSL product line is just one of the products Everbrite offers that comply with ARRA requirements. The intent of the ARRA is to reinvigorate the U.S. economy with new projects that put Americans back to work.